With the proliferation of coffee shops opening up on every street corner, there's more need than ever for qualified baristas who are passionate about their trade.
Starting out
To start up as a barista you need to have a love for coffee, and you need to be committed to keeping yourself updated and skilled within your chosen profession. However, with the quality of coffee shops steadily on the increase, passion alone will not be enough. There are a few different ways to get into the coffee making business, but skill will always be your best friend.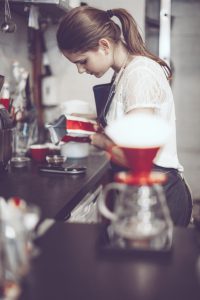 Basically, there are two main options: you can try to get a job in a coffee shop first, and then start working on your skills and qualifications; or you can start by attending a course and achieving a qualification before you go out looking for jobs. The first option will mean a lot of work before you are allowed to do proper bar shifts, as you will need to prove that you are capable of handling all the different items on the menu. With the second option you will have a valuable stepping-stone with you at all times, as qualified and experienced baristas are in high demand.
Finding options
When it comes to training courses in the US there are a myriad of different options, and you'll be able to find something pretty much anywhere you'd like. This is a great way to start your journey in coffee, as you'll be a lot more likely to find a good job if you put the effort in first.
When it comes to barista skills, you will obviously need to work hard on your preparation of coffee drinks, the development of your palate, as well as your people skills. Handling customers will always be a very important part of your job, and while this might not be where your real passion lies, it's still a large part of your skill set. Being a barista can be both fun and challenging, but very rarely boring. There is definitely something new waiting around every corner.