How to create a famous cafe
Coffee shops are popping up on every corner, but more often than not you'll see them barring the windows and closing the doors again relatively soon. The reason for this is that coffee drinkers are picky, and they'll gladly pass up the closest option for the best option. If you really want to make your café a place to be, you've got to respect the coffee.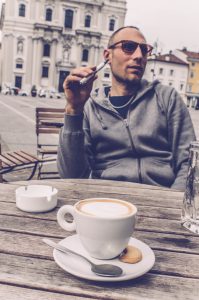 Quality over quantity
The first thing any customer will judge you on is the quality of your coffee, which is why it's so important that you use top of the line equipment and ingredients. Your coffee machine needs to be top notch, and in addition to that you need to choose coffee beans of the highest quality. Some coffee shops choose to serve a wide range of beans, while others stick to a few tried and tested varieties. It's important that you don't overreach and try too much. It's much better to offer a smaller selection of excellent quality, than to try to offer a little bit of everything. As mentioned, coffee drinkers are picky, and quality always trumps a large selection.
You obviously also need someone qualified to make and serve this coffee, so choose your staff carefully and make sure you place weight on great customer service and well-educated baristas.
A home away from home
You can make money on takeaway coffee, and this is an important market, but you also need to make sure your interior keeps your customers happy and keeps them drinking your coffee. Choose your design carefully and make sure you offer different types of seating. This is where you can try to save some money. There is little to be done about the price of great coffee beans and coffee machines, but when you're decorating your café you can easily choose to go with the cheaper options without compromising on quality and appearance. To make it easier for yourself, you should try to get as much as possible from one single source. In this way you save money on transport and you might even be able to get some good discounts in there as well. A great place to start for your interior design is buildor.se. You'll be able to get most of your materials from one single place, and at a price that won't break the bank.